I'm getting married in September and I've got a total budget that the media would have me believe is what I should be spending on my dress alone. Like most ladies, I am consumed with ideas, pinning madly, and shocked by some price tags. Naturally, I've got a couple of DIY projects on the horizon to keep my hands busy and my wallet full.
First up: the veil.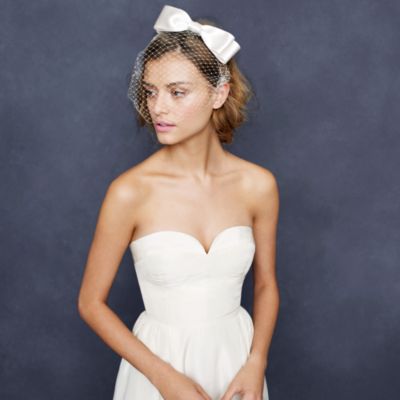 I fell for this J. Crew birdcage/bow combo but just couldn't justify the $295 they were asking for it. That's almost double what I paid for my dress. A headband, some ribbon, and some netting for $300? Not happening. Even similar models on Etsy will run you $30 to $50. So I busted out my glue gun and made my own version of this veil for $6. (Technically, I spent around $8 on materials to make two veils, in case I messed the first one up. Pro tip courtesy of Shannon.)
Math geniuses have already noted, I saved $290—probably more counting taxes! Here's how I did it:
What you'll need:
A head band. I found this headband at Forever 21 already topped with an off-center satin bow. I was planning to use gift-wrap ribbon from Michael's for the bow, but took this shortcut that came in at a whopping $1.50. I splurged in the name of safety and bought two.
Netting. A quick stop at Jo-Ann Fabric, and I had acquired the second piece of the puzzle: a yard of wide-diamond French netting for $3.99.
A glue gun. Then I borrowed a glue gun from my sister. (Most mini-glue guns are under ten bucks, so don't let this step deter you.)
Scissors. You'll also need a pair of scissors to size and shape the netting.
Start by measuring the netting. I wove one end of the netting onto the headband, then put it on and pinched the fabric at the other ear where I wanted to cut. I ended up at 15 inches. (I have a small head.)

Next, cut off the top corners of the netting, following the lines of the diamonds, into a polygon. And you thought you'd never have a practical use for geometry!
Now plug in your glue gun, and set up a workspace that can accommodate drips. Oh, you're not a sloppy messy baby? Nevermind.
Following the diagram, glue according to these steps:
Glue one end of the long, finished-edge side of the netting (point 1) to the inside of the headband at point A.
Glue point 2 to point B.
There should be more fabric than can lay flat along the inside of the headband. Start by gluing the netting below point B towards point A, allowing it to lay flat, as you get within a half inch of point A, make your glue points closer together to allow for fabric scrunching.
Do the same thing on the other side, starting by gluing your two base points, 6 to E, and 7 to F.
Glue along the inside of the headband from point E to F the same way, flat near E and then scrunched and tighter near F.
Next, glue the shorter, flat, finished netting (side 4) to the inside of the top of the headband.
The slanted, cut sides (3 and 5) are the hardest part, but where the birdcage gets its shape. To carefully fold side 3 under the headband, let it connect where the fabric is glued at point B to where the fabric from side 4 ends. Then, using what I can only describe as a "squash fold," push the bubble created flat along the inside of the headband. GLUE IT GOOD.
Use the same flattened bubble squash technique on the last headband section for cut side 5.
This might be the most important step: let the glue cool completely. Please don't put the headband on before the glue is cool in your excitement, because you will glue it to your head and rip out some of your hair to get it off. No, I don't know this from experience. I'm just guessing.
Clean up the ends by trimming the fabric where it sticks out past the headband.
And celebrate! You just saved $290! Let's all book couples' massages for our honeymoons!