Does it seem like everyone you know is getting married? Wedding fever has certainly hit our friends, so the Birds are here to answer that one burning question: What should I wear?
Hanna's pick
In November, my college roommate and BFF will marry her high-school sweetheart in a very urban, Brooklyn-based affair with a splash of vintage style. She's asked me to be one of three bridesmaids, and with that comes a great obligation: I have to wear what the bride wants. Luckily, I've learned to trust Sarah's taste completely—she was right about that corduroy vest I said made her look like a newsboy and she's still wearing those moccasins I thought she'd only need for Spirit Quests. It was Sarah who became my "style guru" at school, sparking my devotion to Citizen jeans and Steve Madden footwear. She basically dressed me for four years anyway, so I knew she'd pick a great bridesmaid dress.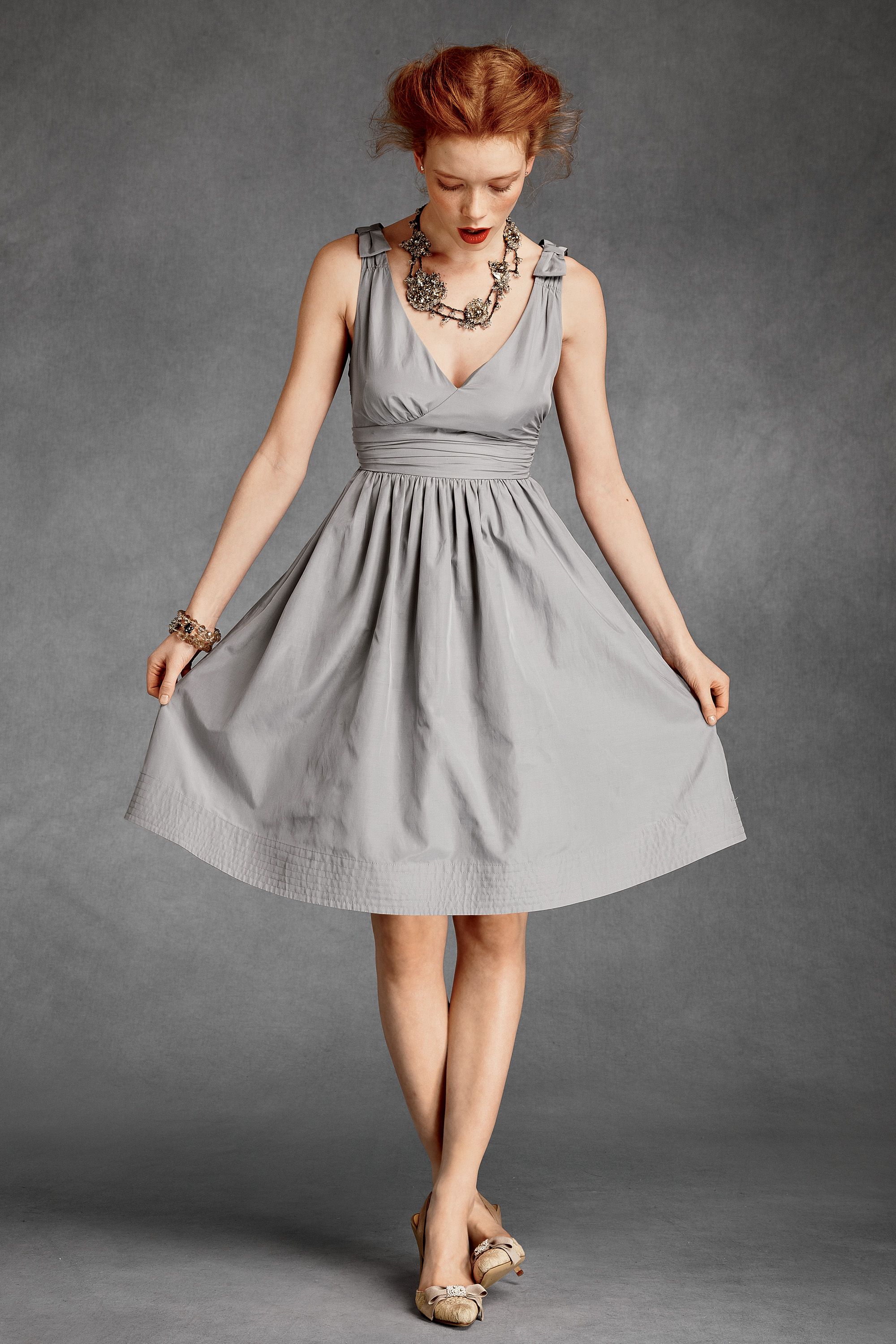 With three differing body types, cohesion can be hard to achieve. Sarah's pick is flattering on multiple figures, with a wide band at the waist, slight pleating, and solid straps. In pewter, it is elegant and subtle. I love the bow detail at the shoulder, and that I could easily wear this dress again.
We've made it through laughs and tears, hot teachers, cold winters, and that time we reeked of garlic because her first batch of pesto went wildly awry. I'm so excited for her, and for the day, and thankful that I have a great dress to wear… and not one of these.
Shannon's pick
Hanna had it easy, someone picked her dress for her. No endless shopping, no failed try ons, no muss, and certainly no fuss. I wish someone could bridesmaid dress my whole life. I had to war with retail universe to find a suitable dress for the boho, indie-chic coffeehouse/venue wedding which is only a week away. So, okay, yeah I have had 3 months to find something to wear, but I kept thinking "Surely Anthro will have something." Every time I go into their hallowed, fake foresty walls I see a million wedding worthy dresses. That is what Anthro is for! Not this time folks. Nada. So I had to scramble, which in my case paid off.
I remembered seeing suitable dresses at H&M a while back, so one boring afternoon I left our office and set out once more to battle the shopping dragon. Jackpot! I found this great sari-inspired, bronze number marked down to $20. The back has a loop of fabric which dangles from the top and attaches at the bottom. The front has a giant pouch. It is maybe the most interesting thing I own. You are probably thinking "bronze? for a summer wedding?" Which is exactly what my fellow birds thought when I returned with my bounty. Yes, bronze for a summer wedding. Paired with a bright belt and chunky summer colored shoes, this dress's vintage style is going to be slam dunk for this hip hipster hoe down. If the wedding were outdoor, I would be sundressing it up though.
This dress has a few key features for a wedding: breathing room, pockets, and moveability. It's not suck-it-in, skip-the-cake tight, which appeals to my slightly out of shape side. The pockets will be key when my boyfriend refuses to hold my essentials. And most importantly (as Amy and Hanna note) I can shake my tail feather in this frock.
Amy's pick
Scenario: A guest at a spring wedding…
It doesn't matter how many previous weddings you've gone to or how well your closet is stocked, it's always stressful to figure out the perfect thing to wear. Here's my (affordable) pick:
Dress: Nordstrom En Crème Colorblock Dress – $68
Shoes: BCBG MAXAZRIA  Danya T-Strap evening Sandal – $195
A few things to keep in mind when picking out yours:
It's always better to be overdressed than underdressed.
You can't do white, cream, or ivory. I don't care what the "new rules" are.
Once you pick out your dress, pretend you're the bride and ask yourself "Would I mind if someone showed up to my wedding wearing this?"
You can do black if you must but with a little effort, you can be more creative than that.
If you need to go out and purchase something new, make sure you will wear it again.
Bring a wrap/sweater that matches and looks nice. You'll especially need it if the ceremony is at church. You'll also need it if you live somewhere like Chicago where it doesn't start getting warm until mid July.
Achieving the perfect length is just as important as the rest of the dress. It should at least go to the tip of your fingers with your arms straight down at your sides. But too long is almost just as bad as too short (especially for petite women like myself).
Last, but not least, you HAVE to be able to dance in it!